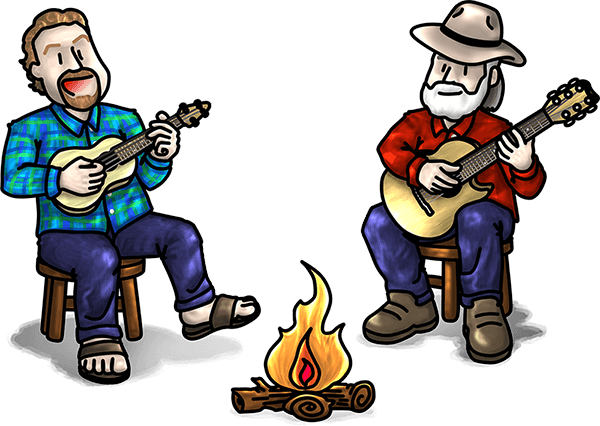 The Bio of "Potato Dan" Ford
Ukulele, Guitar, Harmonica and Vocals
Whenever you hire a musician you want to make sure he is both talented and can handle many types of music.
Potato Dan has been working as a musician, frontman and singer for 25 years doing both cover songs and original music. (We call him "Potato Dan" because he likes people to butter-him-up.) He plays the guitar, bass, piano, and ukulele. It's actually kind of funny to see a big guy like Dan playing a tiny ukulele.
The Jersey Shore is very familiar with Dan from his appearances at clubs like The Stoned Pony, The Brighton Bar, and The Saint. He has also played for many benefits and performed for all age groups (well… except for infants!)
Dan has played many types of music. In fact, one of Dan's favorite memories is playing Ol' Time standards for his grandparents enjoyment as they listened to him practice in his garage. He also became popular with the local neighborhood canines, LOL.
In conclusion
Dan is talented, affable, versatile and by-the-way… he shows up on time!
Biography of Shad Woolley
Guitar, Harmonica and Vocals
Shad is a guitarist and harmonica player with a song list of over 600 songs, so when Shad asks for requests, there's a real good chance you'll hear your favorite song!
Shad started his music career in with a top group, The Galaxies at Manasquan High School. Believe it or not, he played bass guitar parts on a two string mandolin!
After graduating college, he moved to Los Angeles and formed a group called Shadrach doing original music .The high point at this time was opening for the Doors at a local college. Shadrach was at one point managed by Clarence White, guitar player for the Byrds.
Shad formed popular Shore Groups like Family Camp (playing at Jenkenson's), Oat Willy (four years of country rock playing top clubs like the Osprey), Denim, (a trio house band at the Headliner for three years), and the duo 'Shad and Richie' (played The Red Ranch for four years).
Shad's most successful group, The Squan River Band, lasted nine years. They placed 2nd out of 2100 bands in the national Wild Turkey Shooter talent contest and had a Billboard charted song (reached #87).
When the club business softened in the 80's Shad downsized to single and duo acts. He worked fourteen years at the Four Winds, Wall, twelve years at The Broadway Bar and Grill, Pt. Pleasant, and five years at Edgar's in Sea Girt.